H.O.P.E. stands for hate crime awareness, operational responses to hate crime, preventing hate crime and empowering communities to respond to and tackle hate crime.
This year we are developing a series of social media graphics to promote H.O.P.E. in the lead up to National Hate Crime Awareness Week #NHCAW that takes place between the second to third Saturday in October each year.
We welcome others to develop their own artwork to take part in this campaign.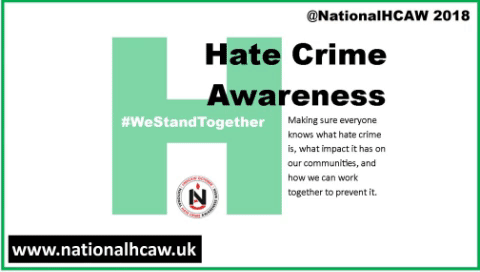 We aim to take people on a journey – hence the three hashtags we use #WeStandTogether (Green) aiming to bring people together, #NoPlaceForHate (Red) opposing hate crime in our communities, #SafePlaceForAll (Blue) representing blue skies ahead where we can live in peace and harmony with each other.
We want to signpost people to our national website www.nationalhcaw.uk
And promote the National Hate Crime Awareness Week Logo.
We own the copyright to this logo but are happy for people to use it to positively promote National Hate Crime Awareness Week #NHCAW. If you use the logo please send us a copy of any materials you produce for our national hate crime awareness week archive.
C/O 17-24-30 No To Hate Crime Campaign, Studio 151, 15 Ingestre Place, London